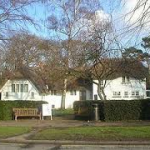 Conferences on Sustainable Living can be very tricky things!  The term 'sustainable' can itself be quite ambiguous, even elusive.
I was at one such conference a while back … which just happened to be in Letchworth … which just happens to be England's First Garden City … which just happens to be where I was brought up.
I should say therefore that, for me, identification with Ebenezer Howard's Garden City movement is kind of 'in the blood'.  But given that we are now well over a hundred years on from when Letchworth was founded, what do we mean today by 'sustainable living' …  in Letchworth or anywhere else for that matter?
Clearly it is about:
 – Meeting exacting standards for new house building in compliance with Sustainable Homes Codes;
 – Creating model 'carbon-conscious' developments like Beddington Zero Energy Development (BedZED) with accessible facilities and employment opportunities;
 – Responding to the broadest range of environmental issues as with the One Planet Living framework – enriching individual and social well-being.
Each of these ethically driven issues is key to understanding sustainable living.
But more fundamentally perhaps, how do we ensure that a focus on sustainable living can actually be sustained?
What is to stop the designer's or developer's original vision and values being lost or forgotten over time?  How can ethical attitudes be embedded firmly enough within a community to sustain and reinforce ethical behaviours and continue to add value to the experience of community living?
Here we can usefully revert to Howard's broader place-building principles and his emphasis upon:
 – community-led governance; and
 – local stewardship of assets.
… or as we might say today …  building 'social capital'.  That is, looking beyond traditional thoughts about the value of physical, financial and human capital to consciously develop and exploit positive interactions between people and organisations.  As the Organisation for Economic Co-operation and Development (OECD) defines it, social capital is about "networks which together with shared norms, values and understandings facilitate co-operation within or among groups".
Arguably, Howard's plans to 'create a town for the benefit of the community' through a Development Company making 'limited profit with surpluses earmarked for community benefit' were designed to deliver a legacy of sustained local engagement with his sustainable living ideology.  The question is, 'do we see evidence of that legacy today' throughout the evolved First Garden City community?   The answer sadly is 'not noticeably'.
Letchworth today can still teach us lots of lessons about built environment and complementary land-use planning but, sadly, each of the design elements aimed at creative governance and stewardship of financial assets has gradually fallen away over the years.
Ethical principles do not sustain themselves!
Is it yet too late to rebuild Letchworth in Howard's original image?  An image which strangely or not, seems to co-incide rather neatly with our own image today of the importance of social capital in sustaining 'sustainable living'.
Best wishes
THE NEIGHBOURHOOD ECONOMIST